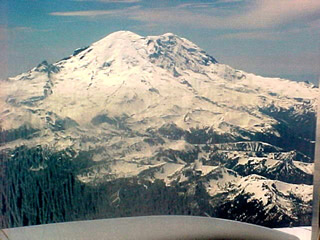 Day 1: Thurs.
We left BWI on a 9:20 am flight to Detroit, then Seattle, then Anchorage arriving Alaska time 6:30 pm. It was sunny, breezy and 65 degrees – just beautiful. After taking a cab to the Hilton downtown we walked around a bit and then ate at a little place called the Downtown Deli. I had salmon and Marty had a green salad with turkey. It was very good compared to the sandwiches and granola bar we had on the plane. When we went to bed at 11 pm it was still light.
---
Day 2: Fri.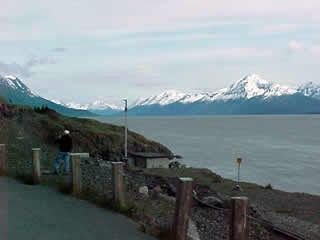 We didn't sleep too well. Maybe it was the time change or maybe it was all the light. In the morning we walked around Anchorage again stopping for coffee, yogurt and a muffin and various gift shops. At the information building we met someone from Toledo who was familiar with Cherry St. and the west end. We also scheduled our Prince William Sound cruise with Phillips 26 glacier cruise for the next day since it was the last day they were giving a discount.
Back in the room we did some email and made arrangements to pick up our motor home from ABC motor home rentals. The first stop with the motor home was a grocery store where we were able to use our Safeway card. Then we headed south on the Seward Highway along the Turnagain Arm. There were lots of turnouts with beautiful views. We took a marsh board walk at Potter Marsh and a walk at Bird Point. We looked but didn't see any whales but we did see a Moose, a couple of mountain goats (?) and dall sheep. The weather was good.
The road took us through the Chugach State park and the Chugach National Forrest. These were the mountains we saw from the plane on the way in. At Portage Glacier we stopped and decided to spend the night before going through the tunnel to Whittier. Portage Glacier empties into Portage Lake which had lots of large icebergs floating in it. We could also see Byron Glacier. This was our first glimpse of Alaskan glaciers.
The campgrounds were either full or had reserved signs on the spots so we found a pull off area on a back road, cooked supper and spent the night. We didn't see much of the eclipse due to cloud cover and then it rained all night.
---
Day 3: Sat.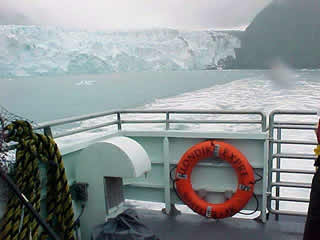 In the morning we moved down to the visitor's center and cooked breakfast. In the center we watched a film about glaciers and checked to see if the cruise was still going since it was still raining. We found out the answer was yes and that it usually rained every day during the summer. On an average the area gets 15 feet of rain and 10 feet of snow. We went through a tunnel that is one way and also used by a train. So there is a schedule as to when you get to use it. The toll is $12 round trip and it is really narrow and you drive on the railroad tracks.
Whittier is a small quaint frontier town that looks dreary in the rain. It probably would look dreary even if it were not raining.
Our boat, the Klondike Express, left at 2 pm in the pouring rain. Being a catamaran, it was a smooth fast ride to the glaciers. We sat next to a woman from just north of Melbourne who worked as a financial aid officer for the Aborigines.
We saw sea otters, harbor seals and lots of birds. The glaciers were tremendous and we took lots of pictures. The trip was 4 hours and they served halibut strips, rolls, fruit and lots of coffee and tea. It was interesting to see all the icebergs floating in the ice cold water. The crew scooped up some ice and let the passengers have it for their drinks. The kids had fun playing with it. Some little boys were licking a large chunk in a bowl and I asked one kid what it tasted like and he said "dirty ice".
The air temperature was very cold, but both decks were glassed in with places to go outside on the sides and back. We got back in time to make it through the tunnel by 7:30 pm. If we had missed that time we would have had to wait another hour for our turn to use the tunnel.
Then we headed down the Seward Highway, which is a really nice new road, towards the Kenai peninsular. The rain let up a little and everything looked s whole lot more green. We stopped for the night in an off road campsite just north of Seward. It started to rain again.
---
Day 4: Sun.
We awoke late (11:30) and after breakfast went to the Exit Glacier region of the Kenai Fjords National Park. We did 3 of the hiking trails, some in the rain. There was a ranger standing by making sure no one went out on the glacier.
After lunch we headed down to Seward and it was 47 degrees, windy, and part time rainy. We drove around and walked around and took pictures of the places that you would not see in a travel brochure. We ate at "Legends of the Mountains" and had fresh halibut. We decided to use the local dump station since there was no one there to notice that we had never done it before. By the time we got to a road side camping spot it was really raining hard. It sure rains a lot here. And summer is supposed to be the dry season.
---
Day 5: Mon.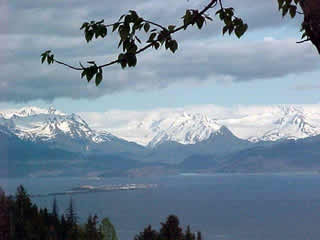 It was raining again when we woke up. What's new! After breakfast we went to the Alaska SeaLife Center in Seward. It was small but nicely done. It is also a research facility and still being built. I took lots of pictures of the fish and underwater stuff that can be used for our S.C.U.B.A. VBS this year. Then we headed towards Homer.
We found a Carr food store; they belong to Safeway, near the town of Kenai and did some grocery shopping. Food is expensive, for instance bananas are $.99 a pound and a very small bag of very small apples was $6.99. Fresh halibut and salmon were $7.99 a pound which was really surprising since we get salmon at Costco in MD for $4.29 a pound. But you can go to a diner and get fried halibut and chips for under $8.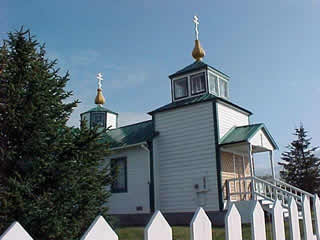 Along the way we saw another Moose and some Caribou. It was distressing to see all the dead trees along the road as we were driving. Something killed them all off. Some of the dwellings look like Appalachia with all the old cars and junk around. We drove out of the mountains along the Kenai River.
We stopped at the Native town of Ninilchik and walked up a dirt path to an old Russian Church which was built on a hill overlooking the Cook inlet. Many of the houses in the town were rather decrepit.
The view across the Cook Inlet approaching Homer was great and we cooked supper at one of the overlooks.
There was no off road camping to be found (we had a long drive looking) so we stayed at the public area on "the Spit" which is a piece of land that juts out 4 miles into Kachemak Bay from downtown Homer. It's like a big parking lot and everyone is lined up in their gravel, treeless parking spot. We will have to pull the shades tonight. The sun went behind the mountain at 10:45 pm but it is still very light out and will be for another couple of hours. Some stores are still open. I hope we don't have to use this kind of place again. It rained off and on all day.
---
Day 6: Tues.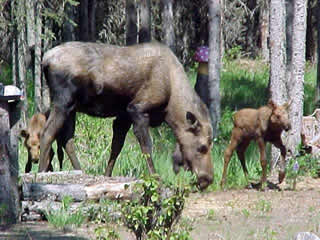 Last night we went down to see what they were catching in the fishing hole after midnight since it was still quite light. Nobody seemed to be having any luck though there were fish jumping all around.
Wow! The sun is shining today and there are white fluffy clouds in the sky. After breakfast we will see what there is in Homer.
This morning we walked along the shore of Kachemak Bay out on the Spit. The tide was out. The wet rocks are not slippery here due to the absence of algae. We checked out the fishing hole again and people were catching salmon which looked to be around 20-25 lbs. It's still early in the season.
We ate lunch at the overlook and then started driving north towards Anchorage. On the way we spent some time at Kenai Lake and saw about 8 sheep on the mountainside. Along the road we spotted a cow moose with two calves in someone's backyard. Of course we turned around, and drove back to get pictures. We ate supper at Tern Lake and watched the Terns dive for fish. It is one of their nesting grounds.
We headed up the Turnagain Arm and after stopping for gas we hiked a short marsh trail. I did not know that 1/3 of Alaska is wetlands. There were mosquitoes but there was also a breeze so they were no trouble. Then we went back to the Portage Glacier and took the Bryon Glacier trail. We started it at 9 pm and it was a 2 mile roundtrip. We were looking for bears but no luck seeing any, maybe because we had a bear bell. A few days ago there was a mother and 3 cubs spotted up there. There was no ranger here so we walked on the glacier.
Then back to the off road spot we used on the way down for the night. But it's hardly night. It's 10:45 pm and the sun is still shinning. It makes the tops of the snow covered mountains look really nice.
Around midnight we look out and saw a wolf walking down the road towards us. We watched as she walked along the trees and crossed about 50 feet in front of us. Then she crossed back and stopped to pea before entering the woods. Wow! We never expected to see a wolf that close. She was very tall and rather thin.
---
Day 7: Wed.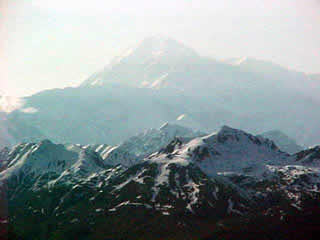 Leaving Portage Glacier we headed north along the Turnagain Arm and stopped to cook breakfast at Bird Point. We looked for whales but didn't see any. Then we drove on into Anchorage.
We stopped at Costco and were surprised that we couldn't find any fresh salmon for sale.
This was really surprising since we saw them yesterday pulling the salmon out of the water in Homer. We settled for fresh halibut instead. We stocked up on groceries for our trip north. We also stopped at Safeway and Subway.
It took quite awhile to get out of Anchorage due to traffic, small roads with lights and road construction. But when we got up north a ways the road cleared. It was a long drive to Denali State Park. On the way we took the turn off to Talkeetna because "they" say you get the best view of Denali from there. They were right and it was in the clear. So we took lots of pictures. We talked to Dennis and Irina and then Kristin and Guy from a pay phone by the airport. There was a group getting ready to take a plane up to the glaciers to go skiing.
We stopped at a rest area just to check it out because it said camping. There was one camper there and as we were turning around we saw a black bear come out of the woods and cross the parking lot in front of us. Then it went off into the woods.
We are now camped on a dirt road just off the main road. There are very few trees and we have an unobstructed view of Denali. This is really great! It is after midnight and it is still very light out with a rosy tint behind the mountains. I can see Denali while I am typing this. It should look great in the morning when the sun rises which should be in a few hours.
---
Day 8: Thurs.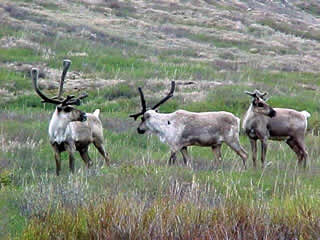 We thought it would get a little dark for a few hours last night – no way – there was no night. Twilight just turned into predawn and then sunrise. So we only napped. In the morning we watched clouds blow around Denali while we cooked breakfast and ate.
We arrived at the park and immediately took a shuttle bus to the Savage River area where there was a park ranger that was going to take us on a guided hike. In the parking lot I saw a red fox. I did not have my camera of course.

We ate our sandwiches on the 45 minute bus ride to get there. We got out of the bus and saw 30+ Dall sheep on the mountains above the parking lot. We started out on the hike with the ranger but soon it became apparent that she could not spot the animals as well as Marty could. He pointed them out to her and the group and then we went on ahead. We saw a group of 3 caribou, a female harlequin duck, and then a female moose with her baby. It was a pretty walk along the river.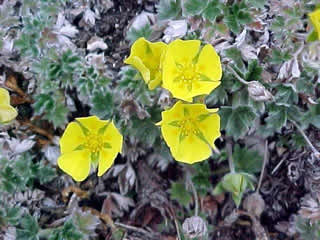 Funny story – on the way along the river I used the "facilities" in a small cave like area in a pile of rocks. There was no one around. Coming back on the other side of the river there was a group of people all around the ranger as he was talking right at that spot by the pile of rocks. They were all probably wondering how that "wet" spot got there.
We got back around 5 pm and talked to Dave and Cathy on the phone. Then we cooked halibut for supper in the parking lot, and then went to hear a lecture on the Athabascans in the Visitors' Center.
It is windy and cloudy and Denali is not visible at this time. We were very lucky to see it yesterday since "they" say that 80%e of the visitors here do not see it at all.
We spent some time at a roadside area and then decided to go back to the Visitors' Center parking lot around midnight. We will spend the night here.
Tomorrow we are scheduled to take a shuttle to Eielson Visitors Center which is 66 miles away by road. It leaves at 7:30 am so we have to get up early.
---
Day 9: Fri.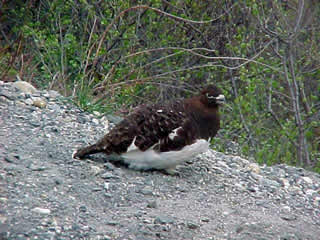 It was a great day. While we were eating breakfast very early in the parking lot of the visitors' center, we heard wolves howling. Then we boarded the shuttle bus for Eielson at 7:30. It took us almost till noon to go the 66 miles, most of which were on a narrow winding dirt road. Sometimes the road went right around the side of the mountain with drop offs on one side and gravel straight up on the other side. At times I couldn't see the road on the side of the drop off. Our driver really liked driving close to the edge. There were several rest stops along the way.
We saw caribou, sheep and the highlight – a grizzly bear with 3 cubs. The bus stopped at each wildlife sighting so we could all take pictures.
At the Eielson Visitors' Center we took a short hike along the road and found a nice place to eat our lunch overlooking a glacial river. Then we had a ranger led geology hike and learned all about the formation of glaciers and glacial valleys. After that we walked around some more taking pictures of the alpine flowers and the clouds swirling around the mountains. We spotted a male moose with large antlers in the willows in the river bottom. We boarded a bus again at 3:15 pm and arrived back at the Visitors' Center around 7 pm.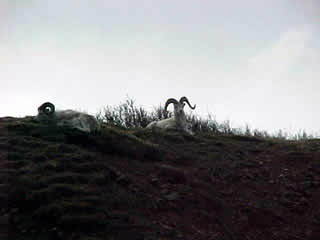 We learned that the reason that the black spruce looked dead was because of the permafrost. Sometimes they look "drunk" because the roots can only go down as far as the ice and then the tree tips over in the wind. Then they die. If the permafrost happens to melt due to the ground being uncovered or getting more sun then the aspen, birch and willow can grow. Only the black spruce can survive on the permafrost. That is why there is a line of these trees along the roads. Making a road causes the permafrost to melt along the sides. It also causes road heaves and bumps. In some places it is impossible to surface the roads and then the roads are gravel. 82% of Alaska has permafrost.
It is cold and windy now and occasionally there are showers. Denali was not visible all day, but we saw it Wed. afternoon, all night and on Thursday morning.
It is now 10 pm and we are going to hit the dump station and fill up with water, then take a short hike before sleeping tonight.
We got back after midnight and decided to head for Fairbanks. The road was gravel and muddy in spots and there was no way you could go 65 mph! Somewhere 70 miles short of Fairbanks we stopped for the night. It was after 1 pm and there was a rosy glow in the east which meant the sun was on its way up. Sunset was a few minutes after midnight.
---
Day 10: Sat.
When we awoke this morning it was really raining. It was not just a shower, but a steady rain and we could not see anything off to the sides. It rained all the way to Fairbanks so we decided it was a good time to visit the University of Alaska Museum. We ate lunch in their parking lot first.
The museum was small but a wealth of information about the different parts of Alaska. It was interesting reading about the pioneer woman. They were sure tough. Of course they had a gold nugget display and a gem stone display. There were stuffed animals and birds. It's nice to know that there are no snakes in Alaska.
After supper we went to Pioneer Park where they were having a folk music festival. It was like turning back the clock 40 years. There were a lot of old time hippies. The dress of this city is casual – anything goes. After the festival we walked around the "gold rush" town. It was late and there was nothing open so we will have to come back.
We have turned into "Wal-Mart" campers for the night. It is not crowded like the RV parks with a motorhome in each parking slot. And it doesn't cost anything. Most of the RV parks do not have hookups anyway.
It has started to rain again and then the sun came out and I took a picture of the rainbow carefully avoiding the back of the building. Then the sunset after midnight was really nice.
---
Day 11: Sun.
I think Fairbanks is much like MN with cold winters and warm summers. The cars have plugs hanging out the front and there are plug-ins in some of the parking lots. They did not have this in Anchorage.
After breakfast we went to Creamers' Field which is a bird and wildlife sanctuary. We saw sandhill cranes, Canada geese and barn swallows. The mosquitoes were thick as we walked the farm trail and when we got to the marsh trail they were impossible so we came back and ate lunch overlooking a small pond with geese and cranes.
Then it was off to the North Pole for a visit to the Santa Clause house and the one reindeer. The town is sort of cutesy with candy cane light poles. But all that was there was a gift shop with Santa Clause sitting there for you to take pictures with – we declined. But we did take the picture with the bear and moose.
After that we stopped at a local Laundromat so we could appear in clean clothes again. Since subway was right next door we did that for supper. Then it was on to Pioneer Park to look at the native village and the gold rush town. One of the native homes was neat. It looked like a small round hill with doors two opposite sides. The grass and small vegetation was growing all over the top. There was a small hole for the chimney. It almost looked like an earth igloo.
At 10 pm we went up to the west ridge behind the university to view Denali. The sun was still shining on it.
Tomorrow at 6:30 am we head for the Artic Circle, we made the arrangements while in the Laundromat. We are spending the night in the old Sam's Club parking lot near the airport.
---
Day 12: Mon.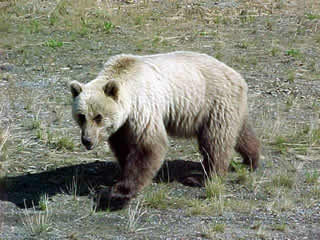 We made it to the Artic Circle today. It was beautiful – 75 degrees and sunny. Much too warm for what I expected. There were 9 of us in a motor coach which holds 25. We were definitely the youngest ones there. There were two people from Florida, two from Indiana, two from Germany, and one from the Virgin Islands who was celebrating her 70th birthday. Our driver was a college student from Brigham Young University in Utah. She lives in Fairbanks and drives down there during the school year.
The first stop was at Carlson's farm. These people had 5 kids then adopted 17 more. The place looked like a junk yard. In MD you could never adopt kids under those living conditions. The kids do all the chores, run the gift shop and do all the cooking. We stopped to use the outhouses and visit their gift shop. It appears to be a regular stop for this tour company.
We stopped and walked around the Alaska pipeline. Above ground is it supported on a Teflon trestle so it can move during an earthquake or heat expansion. There are tubes which go down below permafrost on the uprights that are filled with liquid ammonia to keep the ground from thawing. Where there is no permafrost the pipeline is underground. The whole pipeline is 799 miles long.
For lunch we stopped at a restaurant at the Yukon River crossing for a picnic lunch, and on the way back we stopped there for supper. We had the best halibut there. The cook did a great job.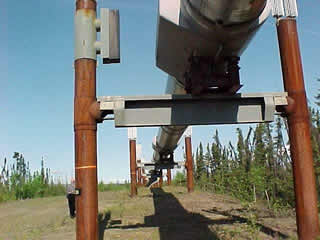 We walked out on the permafrost and felt the ice 6 inches down. Walking out on the tundra was like walking on an air mattress. It was very unsteady footing. We stopped at Finger Mountain, enjoyed the view and climbed the rocks. We saw one Moose and one Grizzly bear by the side of the road. The Grizzly just stayed there while we all took pictures.
The highlight was the Artic Circle where we each had to step across the red carpet. We also used the outhouse above the Artic Circle and picked up some rocks as souvenirs.
On the long ride we were shown 3 different films. One was about the gold rush days, another one on the pipeline and the last one on the Native Americans living off the land. It was interesting to see how they caught and dried the salmon.
It was a very long day and a long drive on the gravel road. We arrived back in Fairbanks at 10:30 pm. We drove up to the west ridge again to view Denali but it was hazy.
---
Day 13: Tues.
After spending the night in back of Sam's Club again, we drove to Creamers' Field where we cooked and ate breakfast. Then we went to the Botanical Gardens on the campus of the University of Alaska. They try out different plants and seeds to see which varieties can survive the winter here and then make recommendations to locals and seed companies. So it's sort of an experimental station and all very interesting how they grow vegetables. I took pictures, especially for Kristin who will be gardening in ND.
Then we ate lunch by the Chena River in downtown Fairbanks. And before we left Fairbanks we stopped at the RV dump station and the gas station.
We drove out to Delta Junction and then to Tok. The road from Delta Junction to Tok is part of the Alcan Highway. On the way there were nice views of the Alaska Range. Supper was by the Tanana River just east of Tok and about 85 miles from Canada. We watched the small ice bergs float down the river. I thought, at first, that they were small animal heads of some kind all swimming the same way down the river – how silly.
It's been really hot today. It was 85 degrees in Fairbanks at noon and it didn't cool off as we headed east on the Alaska Hwy. The air conditioning in the motor home works. Last week we were using the heater.
---
Day 14: Wed.
We didn't sleep very well last night because we kept swatting mosquitoes. I guess they were hanging around because it was warm out. We weren't able to get very far off the road and every time a large truck passed us the motorhome would rattle.
After breakfast we headed south on the Tok cut-off towards Glenallen. At Salana we turned off and stopped at Wrangell-St. Elias National Park which is the largest in the whole country. It is 6 times the size of Yellowstone, larger than Denmark and larger then VT and NH combined.
From the Visitors' center there is a 42 mile gravel road, called the Nabesna Road that goes into the park. Most of the road was pretty good. We knew about the first 3 stream crossings but the last 2 were new and one was especially challenging. The rocks were not stable and the motorhome really rattled. In fact when we stopped we discovered we had one broken plate, 2 broken cups and the shelf out in the refrigerator which allowed the milk to tip over. The silverware drawer looked like someone flipped it and the detergent bottle came out of the sink and of course the garbage fell over. But it was an experience! There are fantastic views on this road less traveled. We saw 3 vehicles all day!
I read a poster in the bathroom of the visitor's center and learned that much of the damage to the black spruce population is due to the spruce bark beetle. Since man has controlled the damage due to forest fires the beetle has taken over killing the trees and leaving whole dead trees standing which are just ready for a spark. Consequently the forest fire danger is higher.
The permafrost also kills the black spruce trees. First they look drunk, leaning over at odd angles and then they die. There are a lot of "drunken forests" all over Alaska. So if the tree is upright and dead it is probably due to the beetle. If the tree is tipped and dead it is probably due to the permafrost. But I suppose the beetle could also get the drunken ones before they died.
We ate lunch overlooking a lake surrounded by mountains. And now we are camped next to a stream and we have our own private wood outhouse.
We took a 2 mile hike through a black spruce forest and it rained and hailed on us. This evening we walked across the road and flushed out a spruce grouse.
It is really peaceful here with no sounds other than the birds, the stream and the wind in the spruce. There are sheep on the mountain on one side of us and snow on the mountains on the other side. It would be nice to have a house here except for the mosquitoes. Tomorrow after breakfast we will continue south after we drive out the 35 miles we are in on this road. I hope the 3 streams we crossed have not risen any.
It is midnight now and still very light out. So far we haven't seen any bears or wolves but we are watching. It would be nice to see them from the safety of the motorhome.
---
Day 15: Thurs.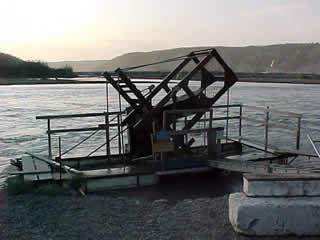 It was a beautiful morning and we left the area slowly, stopping at all interesting places. Then we headed south towards Glenallen after stopping at the post office and using the phone. The Slana post office is open from 10 am to 2 pm on Monday, Wednesday, and Friday.
We took lots of pictures of the Wrangell Mountains and stopped in Glenallen for propane. We ate supper at Willow Lake and had a beautiful view of the Wrangell Mountains and the Chugach mountains.
In Glenallen there is water, water everywhere, but not a drop to drink. All the streams are glacial and filled with glacial dust. Most wells are bad. So the town imports water. There is no water to wash windshields, to fill RVs and the information center did not have a bathroom.
We met someone in the store at Glenallen who told us about a fish wheel down on the Copper River just before Chitina and gave us directions. They sounded logical so we set out for the place. It was a nice drive down, down, down off the side of the mountains and down into the Copper valley. At Kenny Lake there were farms with cows and fields of hay and lots of cleared land. Obliviously there is no permafrost there. We traveled on and on down the valley and finally found it past a small airport on a dirt road with no name. We had to cross a stream on a plank to get there. The fish wheel was interesting, and the people there were friendly, but not much was going on at the moment. Some days they pull out 300 king salmon averaging about 30 lbs each! They are at it 24 hours a day.
Then we drove on looking for a place on McCarthy Road to camp and ended up at a fish camp. There are lots of truck campers down on the river bed and there are people fishing with nets. We will check it out again in the morning.
---
Day 16: Fri.
We left the very dusty Copper River fish camp early before breakfast. Crossing the bridge over the Copper River we saw a large number of motor homes parked there and people fishing with nets and fish wheels.
We drove on and stopped at Liberty Falls trail. It was a rather steep climb up the side of a hill with the view of a water fall across the valley. We should have eaten breakfast first, or at least had something to drink! We ate when we came down and then headed south towards Valdez after going through Kenny Lake again. That would be a nice place to live if you wanted to do some farming or grow some vegetables right in the ground without raised beds. We saw farms and cleared fields. One place was raising pigs.
There were very nice views of the Chugach Mountains and almost no traffic on the road. The sun was shining and we stopped at Worthington Glacier. It is a state recreation site and very well developed with wheel chair accessible ramps. Then we went through Thompson Pass which is above tree line.
Driving along the Lowe River we came upon Bridle Veil Falls in the Keystone Canyon. It was a nice spot to stop for lunch. I also took lots of pictures.
When we arrived in Valdez it was starting to cloud up some so we decided to take the dock point trail which started down by the water. That was interesting and the views were good. After I took a nap and Marty took a walk, we drove around town. Then we did a 2 mile round trip on the Shoup Bay Trail at the other end of town. The trail was mostly in a heavily wooded area with ferns. It finally opened up to a large bog near the water. We turned back before it went straight up the side of the mountain.
Then we drove around the town some more looking at the houses and the water front and then we ate supper down by the water.
We stopped at an Eagle grocery store. If you have a Safeway card you will do OK grocery shopping here in Alaska. Most of the large stores are branches of Safeway and honor their card. Other good places to get food in Anchorage are Costco and Sam's Club. Fairbanks has a Sam's Club also. Among other things, we picked up some smoked salmon.
Then it started to rain while we were filling the water tank from the restroom. We took a ride out to see the final terminus of the pipe line and saw Allison Point where the locals fish.
We stopped for gas at the cheapest place we could find and it was still $1.95 a gallon. In town it was $1.99! It is strange with all the oil here and a small refinery that the price of gas is the highest yet, even higher than in Denali. So far the best place to get gas was in Anchorage or Fairbanks at $1.63.
We have camped down by the Lowe River about 12 miles out of Valdez. It is a really beautiful spot with a waterfall on the other side and mountains which are hard to see in the rain.
It is pouring now and much cooler. Maybe it will wash some of the bugs off the motor home. And it is too dark to read without the light on.
---
Day 17: Sat.
It poured all night long and it was quite cool. I was wondering if the river was going to come up and flood us out before morning. But it only rose a little. A van with a trailer pulled up close to the water and picked up some rafters. I guess it doesn't matter if it is raining while you are rafting.
After eating breakfast we drove back through Keystone Canyon, Thompson Pass and past the Worthington Glacier all in the rain. But the clouds on the mountains were pretty and everything really looked green. There were still large patches of snow in Thompson Pass.
We were not able to see the mountains in Wrangell St. Elias National Park on the way north. It stopped raining but was still quite cloudy.
We stopped at their new Visitors Center in Copper Center. It is a beautiful place just being built. In their theater we watched a video on the park which was beautiful. We also found a computer connected to the internet and took advantage of it. My old Yahoo email worked.
This is a very underused place, probably because Denali is well established and commercialized. But for anyone wanting a true wilderness experience, this is the place! An interesting fact – they allow subsistence hunting of animals for the native Americans and the long time homesteaders in the park The animals don't seem to be as plentiful as they were in Denali since there they don't allow any kind of hunting and the animals are used to seeing people.
After eating lunch in the parking lot we took a walk along their unfinished nature trail after it stopped raining. There were a lot of nice Alberta Roses along the trail.
Then we headed for Glenallen to pick up gas and then to headed west towards Anchorage. It was raining off and on and the clouds were obscuring the view of the mountains to the north and south. We read that this road was a national scenic highway and we didn't want to miss any of it so we stopped for the night on a dirt road pull off. There are 3 other vehicles here now. Hopefully it will be clear by morning when we head out again.
We have taken a short walk and now we are eating microwave popcorn and having hot drinks.
---
Day 18: Sun.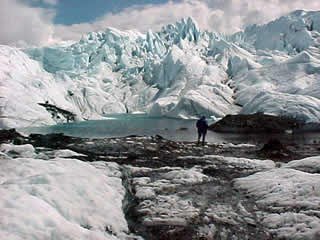 It's partly cloudy and only sprinkles a little now and then. The mountains are visible with clouds swirling around their tops.
The roads are mostly very good so far. Today we ran into road construction that went on forever. We had to stop a long while and when we got going we had to follow a pilot car. It appears that most of the damage to roads here is due to permafrost thawing and refreezing. There is no end to the supply of gravel for the roads that are built up about 5 feet in some places. Every other person has a gravel pit in their backyard! It all comes from the glacial rock that gets deposited when the glacier recedes. A lot of the RV parks are located in old gravel pits – not very picturesque. Road crews have it easy. If you need gravel to level the road all you have to do it dig into the side of the hill and there it is.
At the end of the construction we stopped at the Matanuska Glacier. It looks like a family run operation with a gift and snack shop and a fee to walk out on the glacier. They also give tours to the glacial lake and tours for people to climb up the icy side.
After eating lunch we started out towards the glacier. We didn't take any tours but went all the same places anyway. It was rough in spots over the rocks and slippery ice, but all very beautiful. Our hike lasted about 2 hours and we found the glacial lake and saw the people ice climbing. It was interesting to see how the glacial ice would melt around the rocks. We found small streams and waterfalls, caves, and deep crevices on the glaciers. And we also exercised every muscle in our bodies.
We continued thru the Matanuska valley following the Matanuska river towards Palmer. It is a winding road with views of the Chugach Mountains and the river on one side and steep rock hills on the other.
We camped for the night along the river. The water is gray due to the glacial dust. In fact all the glacial rivers here in Alaska are gray in color and very fast moving.
Rafting is also very popular in these fast moving cold gray rivers. The only clear water we have seen has been in stagnant pool, small streams and some of the lakes.
One nice thing about this place is that there are no mosquitoes here and that is probably due to the very fast moving water. And there is also a nice breeze. The sun has gone behind the mountain and I am waiting for the sunset to reflect on the clouds. It's not quite 11 pm.
---
Day 19: Mon.
We left our pretty place by the river and headed towards Palmer and then Anchorage.
There was a sign for a reindeer farm so we decided to check it out. I got some neat close-up pictures of baby reindeer – adults too.
We passed some very nice farming country and then arrived at the visitor's center in Palmer. It was nicely done and they were selling local crafts. They also had a small garden with vegetables, herbs and flowers.
We stopped at Matanuska and Kepler Lakes and walked some of the trails. These lakes are used for fishing and we did see some fish from shore. We saw Artic Loons on the lake. We also saw the locals coming to swim – and we were wearing long sleeves!
As we got closer to Anchorage we noticed that a lot of snow on the Chugach Mountains had melted. The wild celery was also now in bloom.
We stopped at the airport to try and arrange a rental car for Wed. but were unable to do so there. So we drove to Kincaid Park and found a phone and after calling several places we finally found a car available.
Kincaid Park is a large cross-country ski area with a large warming chalet. It also has a biathlon rifle range. A lot of the trails have overhead lights. In the summer it is used as a bicycle and walking path. There were some nice views of the Cook Inlet there and we ate supper there.
Then we headed south along the Turnagain Arm stopping at the various points of interest. We stopped at Potter Marsh and walked the boardwalk. A small creek zigzagged under the boardwalk and at one point we were able to see some salmon getting ready to spawn.
Heading further south we stopped for awhile at Beluga Point to look for whales. All we saw was the sunlight on the mountains. It was 11:20 pm. Now we are camped for the night a little further down on the Turnagain Arm facing the water.
---
Day 20: Tues.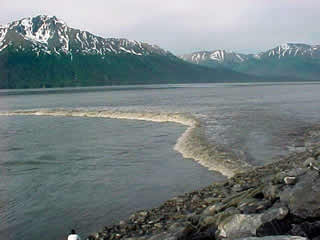 We set the alarm for 6:30 am so we could watch for the bore tide this morning. Of course I was up before 6 keeping watch. Just before 7 am we saw it coming up the Turnagain Arm. It looked like a big wave rolling in. After it passed the water rose really fast and covered the mud flats in a matter of minutes. Now an hour later it's come up over 8 feet.
We keep trying to spot one of the 500 Beluga Whales that reside here in the Cook Inlet but so far no luck.
Going a little further south we stopped and checked out the small skiing town of Girdwood. The trails off the mountain looked awesome with a 2,500 vertical drop from the top. There were some very nice looking houses and a number of Bed & Breakfast places. The we stopped at the National Park Service information center and talked to one of the workers who was from VA. She told us that there were no Beluga whales spotted so far this year which, according to her, meant that summer had not officially started yet.
Then we stopped at Bird Point for a short rest. Unfortunately we left the lights of the motorhome on and the battery went dead. Marty checked with several other cars and trucks that were parked there but no one had jumper cables. Fortunately after a few more minutes the engine started and we were on our way again this time to Potters Marsh to check on the spawning salmon. There were about 30 of them in the water just sitting there waiting for some stimulus to motivate them upstream.
On the way to Potters Marsh we saw what appeared to be a traffic jam. Getting closer we saw what the problem was – 3 moose on the side of the road. One, with a small rack, was in the water. There were a lot of people taking pictures, us included. One of the moose got frisky and was "dancing" around in the water. They were 3 young males.
Then we headed to Beluga Point to wait for the afternoon bore tide. There was a strong south breeze blowing a lot of the water out of the Turnagain Arm leaving large mud flats. Actually it is not mud but glacial dust. If you happen to step in this floating dust it acts just like quicksand. There were also some sheep on the hillside across from the water.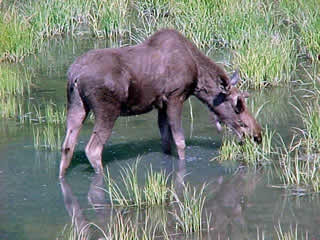 There was so much wind that the afternoon bore tide proved to be no where near as good as the early morning one was. But the water came in really fast and it caused several large whirlpools. We have not seen any kind of boat on the Turnagain Arm. Just watching the currents, the winds and the mud flats, I think boating would be impossible.
After that we headed for Anchorage and Costco to fill up the gas tank before turning the motor home in tomorrow morning. I am going to miss driving around in my "house" with the kitchen facilities, the bathroom and the ability to take a nap stretched out on the bed. It was great to be able to sit and eat with the large picture windows open. Screens are nice and not available on cars.
We decided to check out the Diamond Mall which is very near Costco and Sam's Club. It has 170 stores on two levels. There is an ice skating rink, a health club with two pools, a bowling alley and a cinema. There is also a food court and several other eating places. Above all of this are six stories of office space around a central atrium. It's one stop shopping or just hanging out for a long winter day.
One note of interest was the pet shop. Prices are high in Alaska but the price of pets was ridiculous. The least expensive dogs (basset hound and a terrier) were $899.00 and they went up from there. They were selling mixed breed cats for $75.00 and Siamese cats were $399.00. There might be a market for puppies here. Of course everything is higher here anyway. We didn't find anything we wanted to eat at the mall so we went across the street to Subway – they are always good.
Now we are parked, along with a bunch of there motor homes, between Sports Authority and McDonalds in a large parking lot. Quite a difference from all the other nice places we got to camp. But it's only for one night and it's close to where we have to drop off the motor home and pick up the car.
---
Day 21: Wed.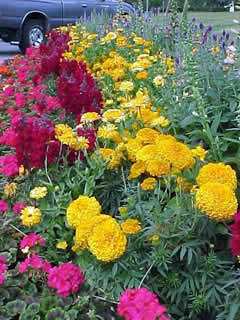 It's our last day in Alaska. The time sure went by fast. We got up early and finished packing and cleaning the motor home.
The plan was to drop off Marty at the airport to pick up the rental car and I was supposed to drive to ABC motor home rentals a mere ½ mile away and he would meet me there. Well, it did happen that way except there was one minor mishap along the way. On turning into the motor home parking lot I clipped a roof with the top of the motor home. It tore off the plastic vent cover for the refrigerator. Here we drove 2,400 miles with no problems and then I have to hit the roof. I was very upset about this. Anyway we took off finally in our rental car which seemed so small in comparison but rode a whole lot smoother without all the creaks and rattles.
We spent the day around Anchorage walking through the center park called Delaney, a former combination golf course and airport. We then went out to Kincaid Park and walked some of the ski trails, went out to eat and went shopping. It was a different kind of a day.
On the way to the airport we saw both ends of a beautiful rainbow. The storm was up in the Chugash Mountains just east of Anchorage.
We got to the airport just before midnight and it was really crowded with lots of flights coming in and lots of flights going out. It took a long time to check in out bags and a very long time to get through security especially we were lucky enough to draw the added security check.
I am now sitting in the airport on the floor next to an outlet. I have just recharged my camera battery and it's nice that I can pass the time finishing up with my pictures.
It sure has been a memorable vacation and all that fresh mountain air was great. So now it's back to MD after some long flights. We should be there around 7 pm tomorrow night.
---
Day 22: Thurs.

The flights went almost as planned. We arrived in Seattle to find out that the flight to Detroit was overbooked and we were asked if we wanted to take the next plane to Minneapolis and then to Baltimore arriving 3 hours later. And for that we would get two free round trip tickets on North West. This sounded like a good idea so we agreed. The flight from Minneapolis was also overbooked but we decided that we were not getting bumped again. A short time after takeoff there was this loud sound of air rushing and presently the pilot came on and told us that a strap had caught in the door and the seal was broken causing the noise. He had conferred with airport and it was decided we would not turn back but proceed at a lower altitude. We finally arrived at BWI around 11 pm and was welcomed by Dennis, Irina and the two dogs.

Arlene