Pondicherry is an ancient city first mentioned by the Romans in the second century. It was established as a colony by the French East India Company in 1673, and it now consists of four unconnected enclaves in South India. After the British left in 1947, it took another 15 years for Pondicherry to join India as a Union Territory. Last year it changed its name to Puducherry, which in Tami means new colony.

Arunabh, Rajeev, and I flew into Chennai early Saturday morning and hired Sabhabati to drive us to Pondicherry. This dude drove his Indigo like I drive my XBox - either full throttle or full brakes. A half hour into our trip he swerved to the left and slammed into a family scooter. The scooter wobbled, but the family stayed onboard. The bump broke our side mirror and ran a deep scrape down our passenger doors. We stopped, the scooter stopped, and the two drivers yelled at each other while the three of us and the wife and two kids watched. As a crowd gathered around us, we got scared that Sabhabati was going to lose the fight, and we urged him to avoid the danger and get us back on the road.

I asked Sabhabati to be careful. He nodded. "No problem, sir." And not two minutes later, bang! Sabhabati had whacked an oncoming two wheeler on our right side. The blow popped off our remaining side mirror. The two wheeler stayed upright and kept going. We all yelled at Sabhabati to slow down. I put on my seat belt. Bikes were one thing; what if Sabhabati swerved into a truck?

The traffic dissipated as we drove down the Eastern Coastal Road. We could see the Bay of Bengal a few hundred yards off on our left. Sabhabati pointed out the remains of a village which had been washed away by the tsunami; nobody had yet rebuilt it. He said that there was no need, as the villagers had also been washed away.
That wasn't so cheery. I got to thinking about what happened when the tsunami struck. The landscape was flat, and there was no place to run. It was probably good nobody was rebuilding in this danger spot.
We stopped at Mamallapuram, the center of the Pullava Empire thirteen hundred years ago. There's a nice Pullavan shore temple sitting on the beach: our guide Natraj told us there were seven temples, but the other six were now under water.
Well, five of them were under water. Until two years ago, one temple was just a two foot high rock on the beach where people sat as they fished. Today, it's a twenty foot high temple, uncovered when the tsunami washed away the sand.
Natraj told us about the day the tsunami hit: it was 26 December 2004, and he was on duty as a guide at the temple. It was early, eight in the morning, and the vendor stalls were setting up with only a few customers. Suddenly people pointed at the water and started yelling, and Natraj saw three large waves heading towards the beach. Everybody went running away towards the lighthouse, except for one German shopper and two vendors who were trying to sell him something. Those three were washed away.
I looked at the waves and tried to imagine what it would be like to stand here watching a tsunami heading towards you. This place seemed safer than the previous village, as there were some hills and a couple lighthouses a half mile away. Still, you'd have to be able to run awfully fast.
Natraj showed us more Pallavan carvings in Mamallapuram. We visited several temples which were carved out of single stones. At one of the stone carvings at the base of a cliff, tourists were snapping pictures of some monkeys sitting on the rocks.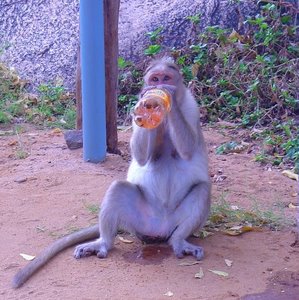 Arunabh doesn't like monkeys. Last year he screamed and bolted when a monkey chased him in Sri Sailam, and I've been teasing him about that whenever I remember to. So this time when a monkey came up to him, Arunabh stood his ground and showed how brave he could be against these dangerous wild beasts.
Apparently this suited the monkey just fine. He pulled the soda bottle out of Arunabh's hands and ran away. Then he opened the cap with his teeth, set the bottle sideways on the ground, and lapped up the soda as it poured out. Another monkey grabbed the bottle and drank it like we do. It made for a great photograph.
It was getting late in the afternoon, and we still had an hour to reach Pondicherry. We talked in the car about the tsunami and how much damage it had caused, and how many lives had been lost. And then we got a really big scare: Rajeev's dad called and said that he heard on the radio that an 8.3 earthquake had hit somewhere around Japan, and that there were tsunami warnings all over coastal Asia. He didn't know anything else, but said he'd call back if he heard more. He told Rajeev to get out of there and get somewhere safe.
Great. Where was this safe place? We were halfway to Pondicherry along a coastal road with no exits. The terrain was flat, except for back in Mamallapuram. We decided we needed more information. I pulled out my Blackberry to check the web. Good news: the earthquake had struck the Northern Pacific. There had indeed been a tsunami, but it was only four inches high when it hit Japan's shores. Not that dangerous after all.
We had a hard time finding a room in Pondicherry, because this was a three day holiday weekend (Sankranthi), and the beach hotels were all booked. Eventually our guide found us a guest house that had plenty of rooms available, and after spending the night there, we found out why: its name and its inhabitants.
Its name is the "Golden Shower Hotel". The receptionist said that's a translation from the Tamil name of the tree outside the front door. He was mortified when I explained what it meant in colloquial English. I'm guessing that the name hurt their long distance bookings.
About the inhabitants: the mosquitoes come on duty at two in the morning. It was a miserable night for me. I wrapped the covers tight around my head and body, but the darn bugs found a way through and kept on biting. I'd fall asleep and jerk awake every few minutes to smack the ones sucking at my arms and legs and face. By five thirty, I had defeated the mosquitoes. Two hundred of the bastards, each fat with my blood, had been splattered on my sheets. I was happy I had won, but I was worried about getting malaria or some other dangerous mosquito-borne disease.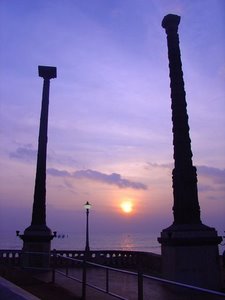 We saw the sunrise at the Gandhi statue in the center of the city, and then took a drive to the Roman ruins at Arikamedu. We skipped some rocks on a river that we scared ourselves into thinking was snake- and crocodile-infested when we heard the splash of a goat herd taking a bath. Then we went for a swim at the beach, and scrambled out of the water when we saw some fins that turned out to be dolphins. By this point in the trip, we were inventing our own dangers.
Our tire had gone flat at the beach, and we stopped and ate at a small dhabba while Sabhabati got it repaired. We laughed at how we had survived all the dangers of our trip. Well, almost all of them. Arunabh and I drank the local water while we ate that last meal, and we both got sick for the next three days.
When Alison and Holly were eight, they shared with me their literary discovery: all good stories were laced with just enough danger to make them exciting and fun to remember. The same held true for our weekend trip to Mamallapuram and Pondicherry.